SAKAE TOWN Livelihood Support Guide
Home>
2. Public Transportation (1) Railroads (trains)、(2) Buses (regular-route buses/loop-line buses, routes)
2. Public Transportation (1) Railroads (trains)、(2) Buses (regular-route buses/loop-line buses, routes)
Planning and Policy Dept. (0476-33-7773)
In Japan, various types of public transportation are available, including trains, buses, and taxis.
Depending on where you are, the method of buying a train or bus ticket, and how to get on and off public transport may differ. Please read the information below.
(1) Railroads (trains)
1 Types of trains

In addition to JR lines run by Japan Railway Company, there are private railways run by private railway companies.
When you travel from Sakaemachi by train, take the JR Narita line from Ajiki station or Kobayashi station. An "Up train" goes toward Ueno, Tokyo. A "Down train" goes toward Narita.
When you take a train, buy a ticket to your destination from a ticket vending machine at the station, or recharge an IC card such as Suica. Then, go through the ticket gate.

(2) Buses (regular-route buses/loop-line buses, routes)
In Sakaemachi, regular-route buses run by a private bus company and loop-line buses run by the town are available.
1 Bus stops
Buses arrive and depart from JR Ajiki station.
2 Bus schedules
Bus schedules are available at bus stops, however, buses may not arrive on schedule due to traffic jams or other reasons.
3 Bus destinations ○Regular-route buses
The destination of a bus is displayed above its windshield. The buses travel back and forth between Ajiki station and Ryukakujidai bus depot. Main destinations are the Sakanaodai area and the Ryukakujidai area. During the daytime, the buses go by the Town Hall.
○Loop-line buses
The destination of a bus is displayed above its windshield. There are two routes: the "Ajiki Loop Route" and "Fukama Loop Route". On each route, the buses go around in a loop in opposite directions - "clockwise" and "counterclockwise". The Ajiki Loop Route mainly goes through the Ryukakujidai and Kitabeta areas. The Fukama Loop Route mainly goes through the Fukama area and JR Kobayashi station.
4 Getting on and off buses
When you see a bus that you are waiting for at a bus stop, raise your hand to let the driver know that you want to get on. Then, board the bus. (On a regular-route bus, receive a ticket with a number printed on it.) When your stop is announced on the bus PA system, press one of the disembark buttons. Get off the bus when it stops.
5 Bus fares ○Regular-route buses
The fare chart is displayed at the front of the bus. Find your ticket number on the display to determine your fare. When you get off the bus, drop your fare with your number ticket into the fare box located next to the driver. If you do not have enough small change, use the change machine next to the fare box. Children (under 12) pay half the adult fare (less than 10 yen is rounded up). Up to two infants can use the bus for free if they are accompanied by an adult. Child fare applies to any additional infant.
○Loop-line buses
Regardless of where you get on or off, the fare is 100 yen. When you get on the bus, drop your fare into the fare box.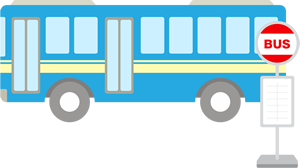 企画政策課(0476-33-7773)
日本の交通機関には、鉄道、バス、タクシーなどがあります。日本の地域によっては電車やバスの切符の買い方、乗り降りの方法などが違う場合がありますので、乗り降りの方法を十分理解して、とまどわないようにしましょう。
(1)鉄道(電車)
1 鉄道の種類

鉄道にはJR株式会社が運営するJR 線のほかに、民間の鉄道会社が運営する私鉄線などがあります。
栄町から電車に乗る場合は、JR 成田線の「安食駅」か「小林駅」で、上り電車は東京都の上野方面へ、下り電車は成田方面に行きます。
電車に乗るときは、駅の券売機で目的駅までの切符を買うか、Suica(スイカ)などのICカード乗車券にお金をチャージして改札から入場します。

(2)バス(路線バス・循環バス、乗り方経路)
栄町では、民間バス会社が運営する「路線バス」と、町が運営する「循環バス」の2種類があります。
1 バスの発着場所
バスはJR 安食駅で発着しています。
2 バスの時刻表
バスの停留所には時刻表がありますが、交通渋滞などの影響を受け、時刻表どおりに運行しない場合があります。
3 バスの行き先 ○路線バス
バスの行き先はバスのフロントガラスの上に示してあり、安食駅から竜角寺台車庫の間を運行しています。主な行き先は、酒直台地区、竜角寺台地区で昼間は役場を経由して運行しています。
○循環バス
バスの行き先はバスのフロントガラスの上に示してあり、安食駅から「安食循環ルート」と「布鎌循環ルート」の2路線を「右廻り」「左廻り」で運行しています。「安食循環ルート」は主に、竜角寺台地区や北辺田地区などを経由していきます。「布鎌循環ルート」は、主に布鎌地区やJR小林駅などを経由していきます。
4 バスの乗り降り
停留所で目的のバスが来たら、手をあげてバスに乗りましょう。(路線バスの場合は、番号が書いた整理券を受け取ります)。また、目的のバス停がアナウンスされたら、降車ボタンを押してバスが止まってから降ります。
5 バスの料金 ○路線バス
車内の前方に提示されている運賃表と整理券の番号を確認し、運転席の脇にある運賃自動支払機(運賃箱)に整理券と一緒に降りる停留所で支払います。小銭がない場合は運賃自動支払機の隣にある両替機を利用しましょう。子ども(12歳未満)運賃は大人の半額です(10円単位で切り上げ)。大人といっしょなら、幼児は2人まで無料で、3人目からは子ども運賃です。
○循環バス
循環バスの料金は、乗り降りするバス停に関係なく同一料金で100円です。乗るときに運賃自動支払機(運賃箱)に入れます。