SAKAE TOWN Livelihood Support Guide
Home>
3. Seal (Inkan) Registration
3. Seal (Inkan) Registration
Resident Section (0476-33-7704)
In Japan, seals are used as a substitute for signatures.
There are two types of seals: mitome-in (personal seal) for day-to-day use and jitsu-in (registered seal) for important documents. Both types of seals are available at Hanko stores. The prices of seals vary, depending on the material used.
"Jitsu-in" is the seal that you put on important official documents. Register your seal (seal registration) at the municipal office in your area (the Resident Section of Sakae Town Hall, if you live in Sakae Town).
In Sakae Town, registered residents of Sakae Town who are15 years of age and over can register their seals. File an application at the Resident Section of Sakae Town Hall. You can only register one seal. Once your seal is registered, a seal registration card will be issued.
Jitsu-in and the seal registration card are used in various situations including registering a car, registering real estate, and taking out a loan. Keep them with great care.
* If your seal registration card is lost, you must submit a notification of loss of seal registration card and apply to register a seal again.
* If a proxy files an application on your behalf, he/she needs a letter of proxy written by you. It will take a few days for the procedure to be completed.
1.Application for seal registration (If the owner of the seal, aged 15 and over applies)
Necessary documents
必要な書類
Where to submit
提出先
When
いつ
Fee
手数料
1 Seal to be registered
2 Personal identification document with a photo issued by a public agency
 ・Residence card or special permanent resident certificate
 ・Driver's license
 ・My Number Card
1 登録する印鑑
2 公的機関が発行する顔写真の付いた本人確認書類
 ・在留カードまたは特別永住者証明書
 ・運転免許証
 ・マイナンバーカード など
Resident Section of Sakae Town Hall
栄町役場住民課窓口
On the day of application
申請当日
300 yen
Issuing of certificate of seal registration
300 yen
300円
印鑑登録証明書の発行
300円
2.Characters/seals that can be registered
There are certain requirements for characters and seals to be registered. For details, contact the Resident Section of Sakae Town Hall ( 0476- 33-7704).
3.Certificate of seal registration
When you use your jitsu-in (registered seal), your seal registration card proves that the jitsu-in is genuine.
In the case you enter into an important contract, for example, when purchasing land, a house, or a car, you will need a registered seal and a seal registration card.
You or your proxy can apply for a certificate of seal registration by presenting your seal registration card at the Resident Section of Sakae Town Hall. Your proxy does not need a letter of proxy. You do not need to bring your registered seal, however, there is a fee.
* If you have a My Number Card, you will be able to receive the certificate of seal registration at a convenience store (Seven-Eleven, Lawson, Family Mart, Mini Stop, etc.) equipped with a multifunctional copy machine.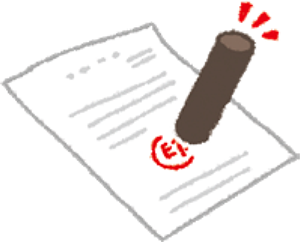 住民課(0476- 33-7704)
日本では、サインの代わりになるものとして、印鑑(はんこ)を使います。
印鑑には、日ごろよく使う「認印」と重要な書類に用いる「実印」があります。どちらも「印章店(はんこ屋さん)」などで作ってもらいますが、材質などによって値段が大きく違います。
「実印」は公的な重要文書に捺印(判を押すこと)するときの印鑑のことをいいます。あなたが住んでいる市区町村の役所(栄町の場合は栄町役場住民課)に印影(捺印したもの)を登録(印鑑登録)します。
栄町で印鑑登録ができるのは、栄町に住民登録をした満15歳以上の人です。栄町役場住民課に申請します。登録できる印鑑は一人一個に限ります。印鑑登録手続が終了すると印鑑登録証(カード)が発行されます。
実印や印鑑登録証は、自動車の登録や不動産の登記、金銭の賃借などのときに利用される大切なもので、サインの代わりになるものですので、それらの管理には十分気をつけましょう。
※印鑑登録証を紛失したときは、紛失届を提出するとともに、あらためて印鑑の登録が必要です。
※代理人が申請する場合は、本人の自筆の委任状が必要で、手続には数日かかります。
1.印鑑登録の申請(満15歳以上の本人が申請する場合)
2.登録できる文字・登録できる印鑑
登録できる文字や登録できる印鑑には、一定の条件がありますので、詳しくは栄町役場住民課(0476-33-7704)に問い合わせてください。
3.印鑑登録証明書
実印(印鑑)を使用するとき、その実印が本物であることを証明するのが、印鑑登録証明書です。
日本では、土地や家、車を買うときのような重要な契約をするときに、実印や印鑑登録証明書が必要になります。
印鑑登録証明書は、本人または代理人が印鑑登録証(カード)を栄町役場住民課窓口に提示して申請します。代理人の場合でも委任状は必要ありません。登録した印鑑を持参する必要はありませんが、手数料が必要です。
※マイナンバーカードがあれば、マルチコピー機が設置されているコンビニエンスストア(セブンイレブン、ローソン、ファミリーマート、ミニストップなど)で印鑑登録証明書を受け取ることができます。