SAKAE TOWN Livelihood Support Guide
Home>
4. National Pension
4. National Pension
Resident Section (0476-33-7706)
The Public Pension plan is a social insurance system that provides benefits such as old-age benefits, disability pensions, and survivor pensions to members.
The Public Pension system is composed of the National Pension Insurance and the Employees' Pension Insurance. The National Pension provides basic benefits commonly to all insured individuals. The Employees' Pension Insurance provides remuneration-related pension to insured individuals (primarily company employees) in addition to the basic benefits of the National Pension.
1.Age limits
All people living in Japan including foreign residents aged between 20 to 59 must be covered by the National Pension Insurance.
2.Enrollment procedures
If you are enrolled in the Employees' Pension Insurance at work, you are automatically enrolled in the National Pension Insurance (second insured person). As your employer enrolls you in the Employees' Pension Insurance, you do not need to go through the procedure yourself.
If you are not enrolled in the Employees' Pension Insurance, submit an application for the national pension to the Resident Section of Sakaemachi Town Hall or the Pension Office of the Japan Pension Service.
3.Payment of pension contributions
Regardless of earned incomes, all insured individuals contribute the same amount. Each year, you will receive a payment notice from the Japan Pension Service in April. Take the payment notice to a post office, bank, or convenience store, and pay the contribution, or you can pay via account transfer.
If you have a low income or if it is difficult to pay the contribution, you can apply for exemption from contribution payments. You may qualify for a full-amount exemption or a partial-amount exemption. As a rule, you need to apply for exemption every year.
In addition, if you are receiving the Public Assistance or the Disability Pension of level 2 or higher under the Livelihood Protection Act, you will be exempt from making national pension contribution payments (legal exemption). However, foreign residents receiving livelihood assistance need to apply for an exemption.
Students can apply for the "Special Payment System for Students" that postpones the contribution payments. Visit the website of the Japan Pension Service to confirm your eligibility.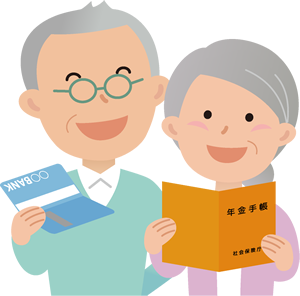 住民課(0476- 33-7706)
公的年金は、老齢、障害、遺族になったときに年金の支給を受けるための社会保険制度です。
公的年金には、公的年金制度の基礎として加入者に共通の「老齢・障害・遺族基礎年金」を支給する国民年金と、会社員などが加入し、国民年金の基礎年金に上乗せして「報酬比例の年金」を支給する厚生年金保険があります。
1.加入年齢など
日本国内に居住する20歳以上60歳未満の方は、外国人の方を含め、国民年金に加入することになっています。
2.加入手続
勤務先で厚生年金保険に加入している場合は、同時に国民年金に加入することになります(2号被保険者)。厚生年金の加入者の加入手続は、厚生年金保険に加入したときに勤務先が行うことになっており、自分自身で直接手続を行う必要はありません。
厚生年金保険に加入していない場合は、栄町役場住民課窓口または日本年金機構の年金事務所窓口へ届出をします。
3.保険料の支払い
所得に関係なく一律に月額の保険料が定められています。日本年金機構から1年分の納付書が毎年4月に届きます。この納付書を持って郵便局や銀行の窓口、コンビニエンスストアなどで納めるか、口座振替でも納付できます。
所得(収入)が少ないなど、保険料を納付することが困難なときは、申請により保険料の全額または一部が免除される場合があります。免除等は、原則、毎年手続を行う必要があります。
また、生活保護の生活扶助を受けている場合や2級以上の障害年金を受けている場合は国民年金保険料が免除されます(法定免除)が、外国人の方で生活扶助を受けている場合は申請による免除手続が必要とされていますので注意してください。
学生は、保険料の支払いが猶予される「学生納付特例制度」を利用できます。学生納付特例の対象となる学校は年金機構のHPで確認してください。
http://www.nenkin.go.jp/service/kokunen/menjo/gakutokutaisyouko.html
詳しくは、日本年金機構の年金事務所でご確認ください。
また、厚生年金加入者(2号被保険者)に扶養されている配偶者(3号被保険者)は保険料の支払いは必要ありません。